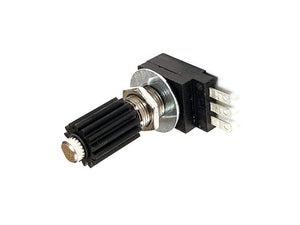 Dunlop ECB424B Hot Potz II 100K Potentiometer
Jim Dunlop Hot Potz II ECB424B. A direct replacement for the (ECB24B) super long life replacement pot. Low noise potentiometer.  One million cycles, life sealed for dust free operation. Compatible with all Crybaby Wah Pedals. 100K ohm. Original Dunlop replacement part. 
N.B: IF YOU NEED TO RETURN THIS POT BECAUSE OF FAULT OR NOT REQUIRED, THE 3 PINS MUST NOT HAVE BEEN SOLDERED TO.
PLEASE USE CROCODILE CLIPS ETC... TO MAKE CONTACT WHILST TESTING. FAILURE TO DO SO WILL RESULT IN A NON REFUND.
---
We Also Recommend